Zakhar Bron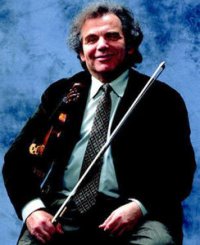 Zakhar Bron is well known the world over as a phenomenal violin pedagogue and an inspiring performer. Some of the best known violinists of today were amongst his students, like Vadim Repin and Maxim Vengerov. He was himself winner of prizes at important international violin competitions, has recorded many CD's and regularly plays recitals, chamber music concerts and violin concertos.
Zakhar Bron was a prize winner in both the Wieniawski International Violin Competition in Poznań and the Queen Elisabeth Competition in Brussels. Since then he has performed all over the world with many orchestras, including the Moscow Philharmonic, the Novosibirsk Philharmonic and orchestras in Spain, Portugal, Germany and Japan, under inspiring conductors like Maris Yansons, Arnold Katz, Justus Franz and others. Some of these concerts have taken place in halls like the Wiener Musikverein and Tokyo Suntory Hall.
Professor Bron started his teaching career as the assistant of Igor Oistrakh at the famous Tchaikowsky conservatory in Moscow, even before taking his final exams. He later moved to Novosibirsk to start there what was to become a legendary class of students. It was in these days that he intensively taught violinists like Vadim Repin, Maxim Vengerov and Natalia Prischepenko. Bron's class in Novosibirsk turned out to be a perfect breeding ground for these talents. Together with Prof. Bron they were invited for concerts through the whole Soviet Union. True to his Polish roots – his mother is Polish – Bron also taught master classes in Poland.
It was through his contacts with Justus Franz and others that he was first invited to festivals in the West, giving him a chance of introducing his unique style of teaching there. He was soon offered several positions at music academies around Europe and in the first period after his move Prof. Bron taught at the Royal Academy in London, the Conservatory of Rotterdam, the Musikhochschule Lübeck and the Escuela Superior de Musica "Reina Sofia" in Madrid. He later concentrated his efforts on the latter two. In 1997 he moved from Lübeck to the Cologne Musikhochschule, leaving behind a school of which he has very fond memories. He still teaches at the Escuela Superior de Musica "Reina Sofia".
In the mean time through master classes Zakhar Bron has continued to spread his way of making music, teaching in almost every corner of the world.  Through the years he has received several honorary professorships and in 1997 was awarded the "Kreutz des Verdienstes, am bande" from the German government.
The artist has also recorded many CD's which cover repertoire for violin and orchestra, violin and piano duo, music for violin and guitar and music in larger chamber music groups. The past years have seen the publication by Reis und Erler of several works edited by Prof. Bron. Also the CD label AC Classics has brought out two CD's with variety of works from different composers. There have been also several TV productions, both in Japan and Germany. In 2007 AMA-verlag published a four hour DVD set with Prof. Bron teaching Wieniawski's second violin concerto.

[2011]