Da Capo. 75 Years of International
Henryk Wieniawski Competitions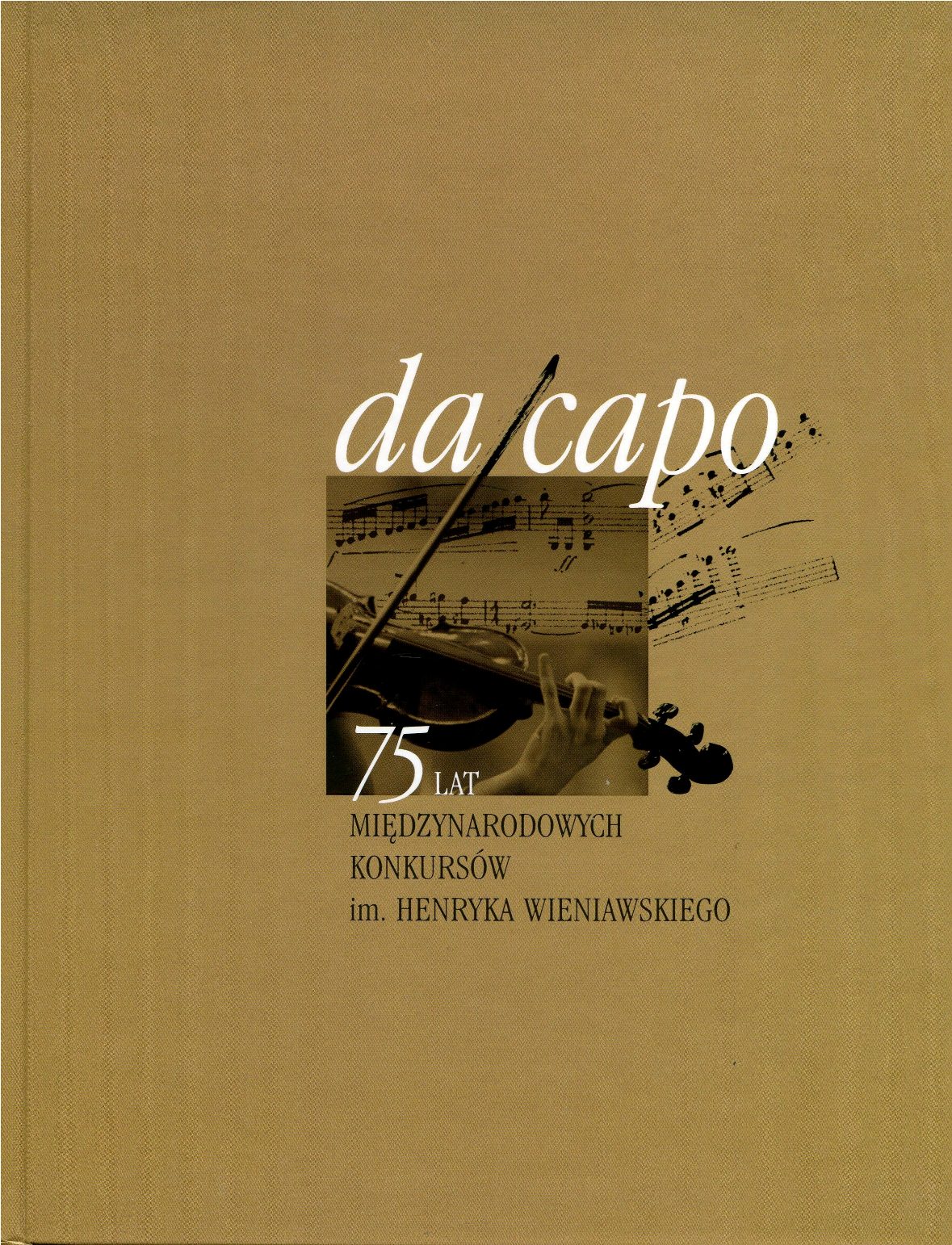 Original title: Da Capo. 70 lat Międzynarodowych Konkursów  im. Henryka Wieniawskiego
Author: Romuald Połczyński
Publisher: Henryk Wieniawski Musical Society and WBPiCAK (Poznań)
Place and date of publication: Poznań 2011
Languages: Polish, English
Number of pages: 328
ISBN: 978-83-60746-92-9
This is the third album on the history of Henryk Wieniawski International Competitions held to date - 13 violin competitions, 11 violin-making competitions and 7 composer competitions. It is a jubilee publication because 2010 was the 75th anniversary of the first violin competition which was held in 1935 in Warsaw. The first album was prepared by Edmund Grabkowski, a chronicler, documentalist and promoter of the works of the Society's patron, and Romuald Połczyński - a journalist and musical feature writer. It covered the first fifty years of the competitions. As time passed by, two supplements to the album with information about the subsequent competitions were produced. In 2006 another publication was produced, this time to commemorate the 70th anniversary of the competitions. It was titled da capo. 70 years of Henryk Wieniawski International Competitions  and was edited by Romuald Połczyński, who was involved in the competitions for nearly 45 years.
We have again decided to have a da capo look at over seven competition decades. Romuald Połczyński, while preserving the skeleton of his joint effort with the late Edmund Grabkowski and thus paying respect to him, has rearranged the old photographs, found a few new photographs in the archives, corrected some captions and tried to look at known events from the point of view of the passing of time. The book is a kind of competition encyclopaedia. It has many unattainable heroes. From violin trainees and world renowned virtuosos, excellent masters of the art of violin making to composers whom we have given opportunities of creative rivalry together with Henryk Wieniawski as their patrons.
This publication is also an illustration of the art of photographic documentation of a few dozen authors with well known and less known names, supplemented with photographs from the archives of the Society. Special attention should be drawn to the effects of the camera work of Jerzy Unierzyski, whose collections of photographs, donated to the Society, have been extensively used in this publication.
The album is accompanied by a text on the history of the Society. The text tells the story of our roots and describes our work in the five year periods between the international competitions, which we have organized and hosted since 1952. The 125 year long history has been written by Dr Magdalena Dziadek, who, living in far away Cieszyn, has exercised an objective approach to this publication.